Riders 8 years old and up can enroll in one* or more lessons per week and participate in extracurricular activities such as clinics and shows.
We have a range of horses and ponies suited to riders of varying experience and size.
*Lunge lessons and initial novice lessons can be booked once or twice per week. All other lessons are scheduled twice per week.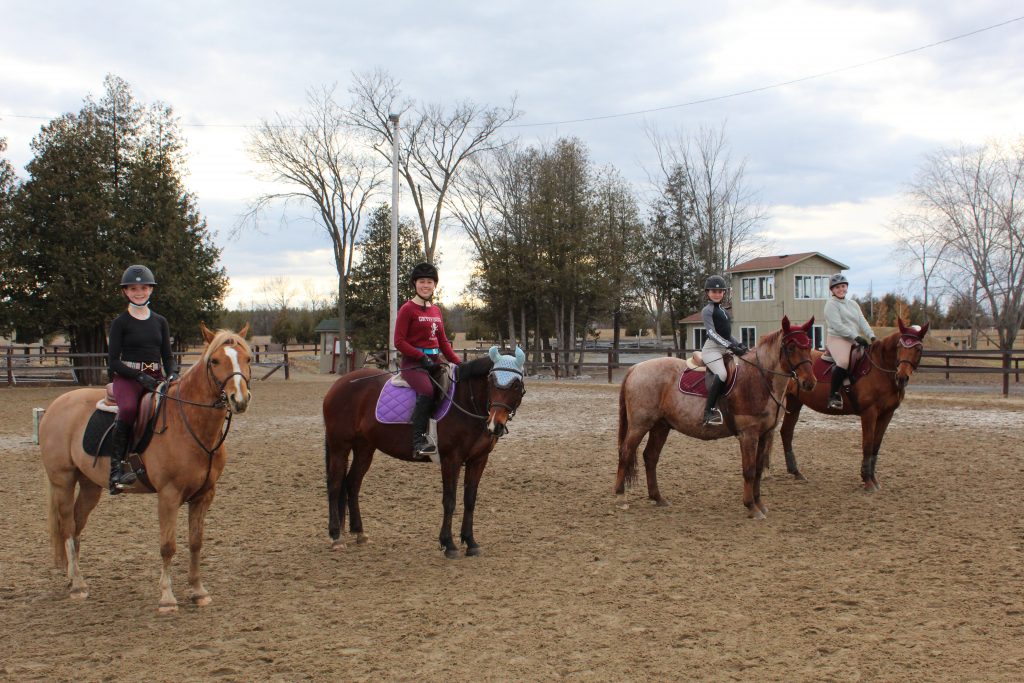 Beginner/Lunge Program
Learn the basics of safety, horse care, grooming, and how to start/stop/steer while mounted
$350 – 4 lessons/mo.  or $675 – 8 lessons/mo. 30 mins ride time, 1 hr total
Mini-Groups
A stepping stone between the Lunge Program and Group Lessons for sets of 2 – 3 riders
$310 – 4 lessons/mo.  or $560 – 8 Lessons/mo. 45 mins riding time
Novice Groups
Students work on both group and individual exercises to form good habits and learn new skills
$530 – 8 Lessons/mo.  1 hour riding time
Intermediate & Advanced Groups
Riders with similar goals and abilities are grouped together and lessons are tailored to those goals
$520 – 8 lessons/mo.  1 hour riding time
Private Lessons
Riders already enrolled in group lessons can work one-on-one with an instructor to build or reinforce skills
$340 – 4 Lessons (30 mins each)
$400 – 4 Lessons (45 mins each)
Clinics & Activities
Enrich riding and horsemanship skills with fun in-barn activities and educational clinics
Lunge lessons can be booked as packages of 4 or 8 per months. All other packages include 8 or more lessons per month. Packages can be combined, for example 4 groups and 4 privates.
* Lunge, Mini-Group, and Novice Group lessons include supervision before and after lessons for grooming, tacking, and untacking.
** Groups consist of up to 4 riders.
Frequently Asked Questions
Which lesson program is right for me?
Skills are acquired and fine tuned as outlined in the Riding Skills Progression sheet. If you are interested in learning more about Long Term Equestrian Development (LTED), there are a number of additional references included.
Riders in the riding school must wear an ASTM or SEI approved riding helmet when on or working around the horses. Westar Farms has approved helmets that riders may use for the first month of lessons while they make sure that riding is the sport for them, however we do not guarantee their fit and function for safety. Long hair should be tied back in a pony tail.
Beginners should wear comfortable stretch pants or riding pants (jeans are not comfortable for riding). No shorts.
Wear boots with a very small heel. Garden rubber boots are fine to start.  In winter, warm boots with a small heel.
A suitable top for riding is a polo shirt or t-shirt with short or long sleeves and added layers as needed. No hoodies, please.
Every rider beyond the first few beginner lessons, should have:
– a lead shank (no chain)
– grooming equipment: curry comb, dandy brush, body brush, hoof pick, shedding blade and a tote to keep them in.
– Riders in mini-groups and above should also have tack cleaning equipment: tack soap, small scrubby sponge, small bucket for water, small towel
You can can purchase riding equipment at area tack shops including: Vision Saddlery (Bells Corners), Greenhawk Harness and Supply (Nepean),  Harmony Horse Ranch Tack & Supply (Ashton) Ashland Tack & Feed (Ashton)  Encore Equestrian (Merrickville),  or Apple Saddlery  (East Ottawa) or you can find many items second hand. Always buy a helmet, new and not used to be sure it is still in good shape.
What other activities does Westar offer?
Riders may choose to participate in the Develpment Show series hosted at Westar from May to September. These introductory level horse shows introduce students in the Westar riding school, along with riders from other area stables, to competition in a fun and friendly atmosphere. The Development Show Manual – A Guide to a Fun Show Day gives tips and advice on how to prepare for, and what to expect on show day. The 2024 Manual will be available soon. Contact Westar for a copy.